As the school year comes to a close, be sure to stay up-to-date on our end of the year activities! Prairie View Elementary has several exciting events coming up! #GoBigO #OGIndians #TheOGWay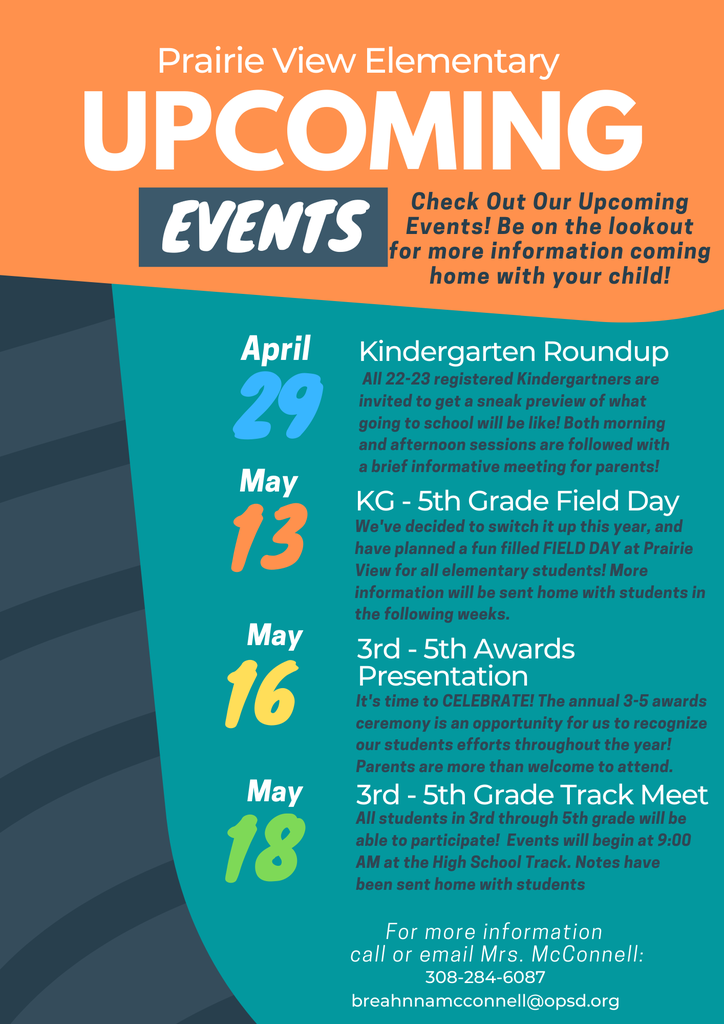 📣Activity update for the week of April 18th. #GoBigO #OGIndians #TheOGWay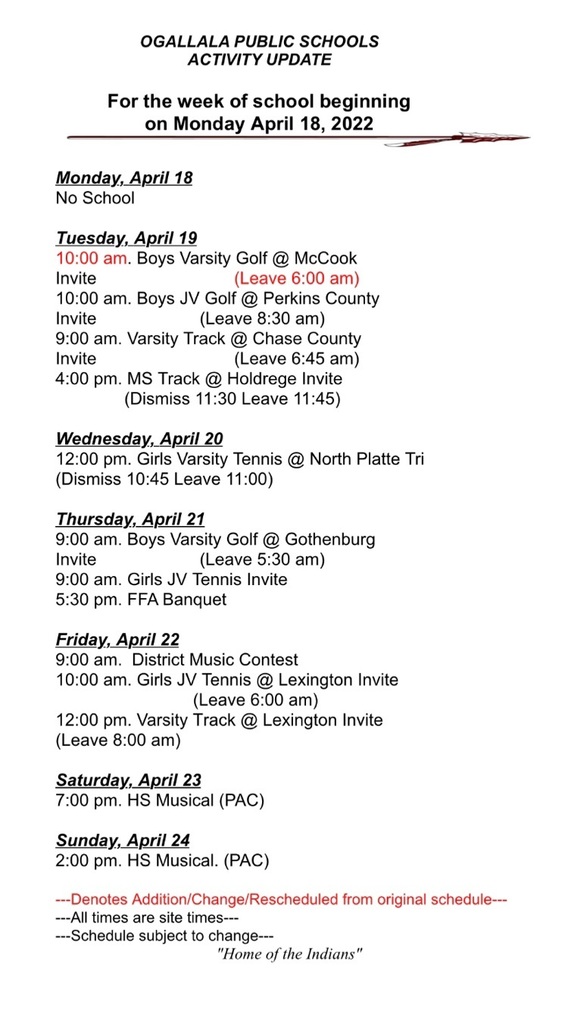 This week we are highlighting OHS Alum, Jeremy and Kelli (Cross) Smith! To see our current ProOG Alumni Database, please visit
https://www.opsd.org/page/proog-alumni-database
. To be added to our Database, please email
socialmedia@opsd.org
with your name, graduation year, occupation, and a headshot. #GoBigO #OGIndians #TheOGWay #ProOG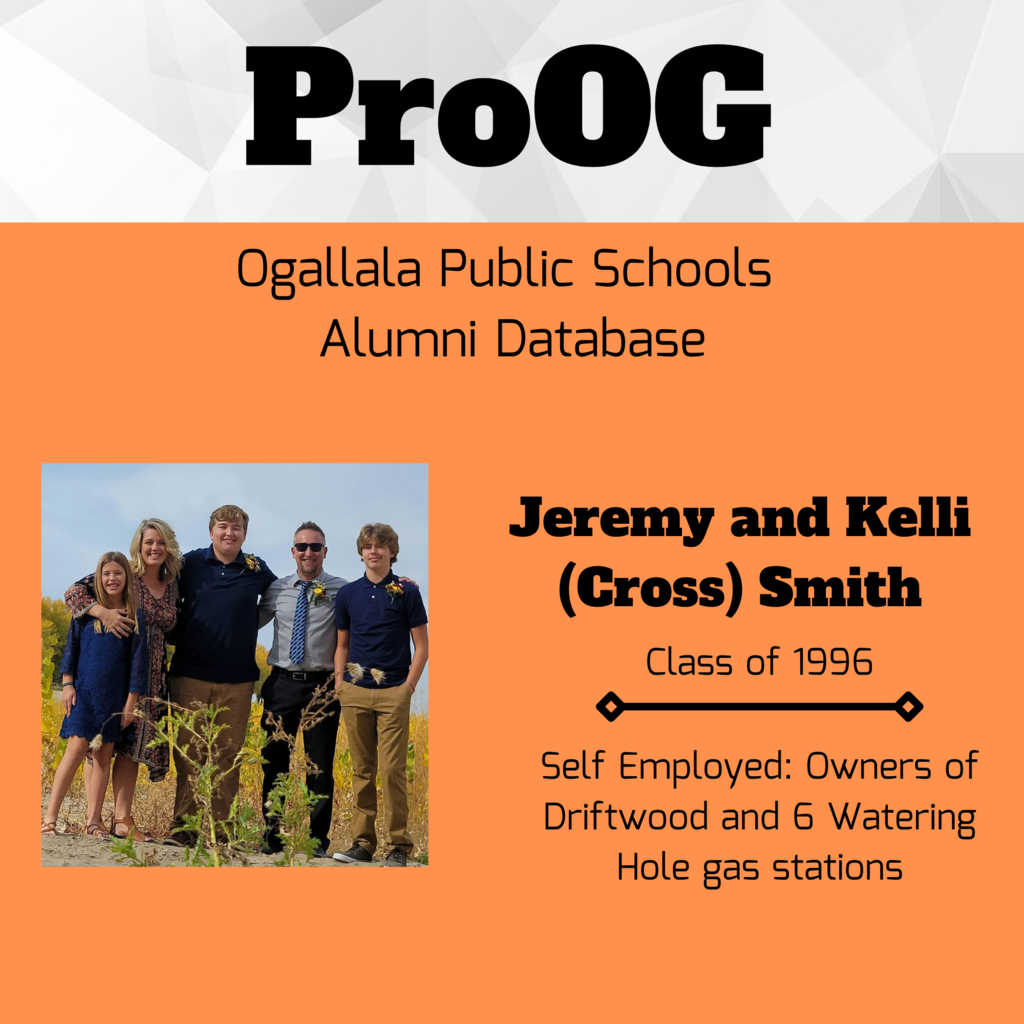 Trevor Godina made this awesome wall hanging height chart in Mr. O'Neil's woods 3 class! We love the finished project! Keep up the great work, Trevor! #GoBigO #OGIndians #TheOGWay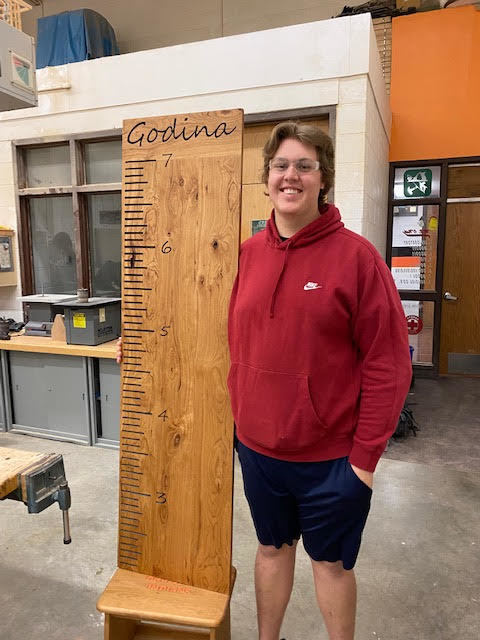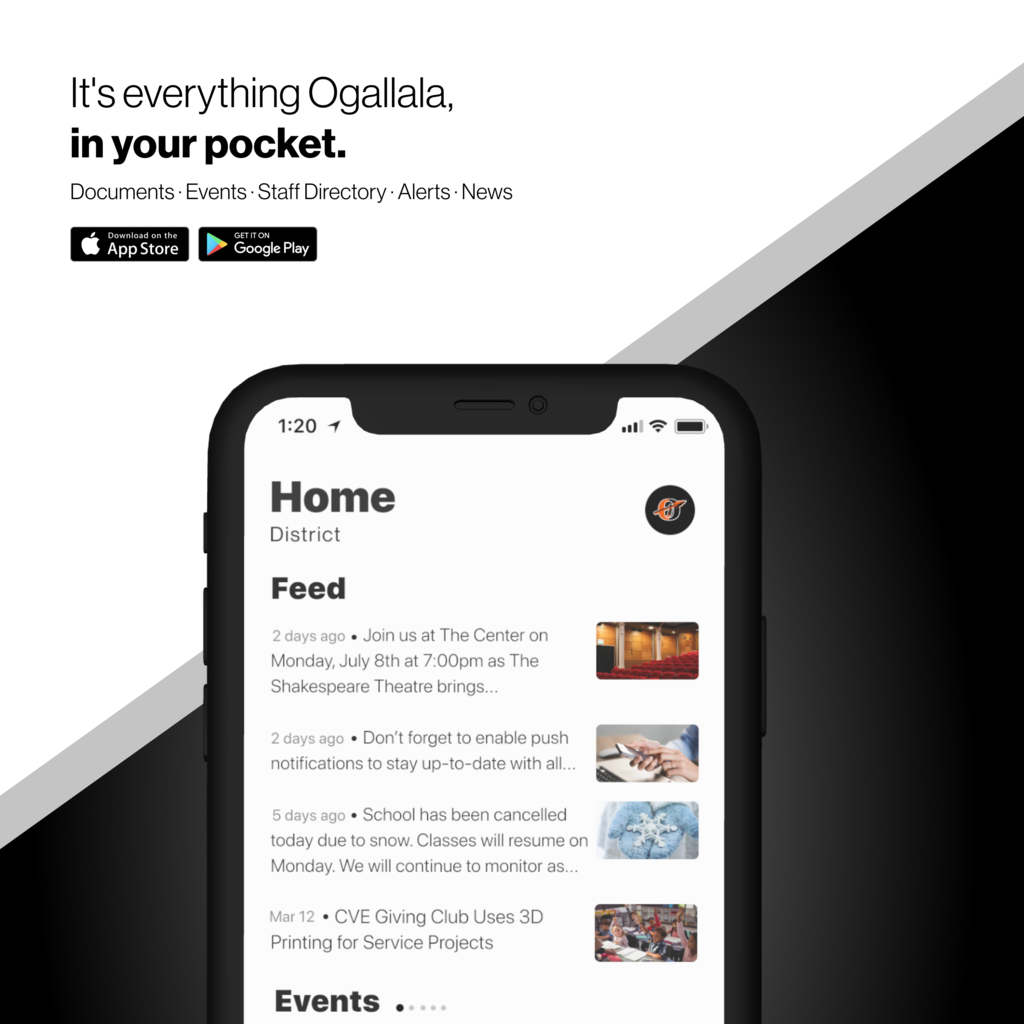 OHS Boy's Golf Varsity and JV took on Gothenburg this afternoon in a nine hole dual at Crandall Creek. Both Ogallala teams came out on top! It was a great way to head into Easter break!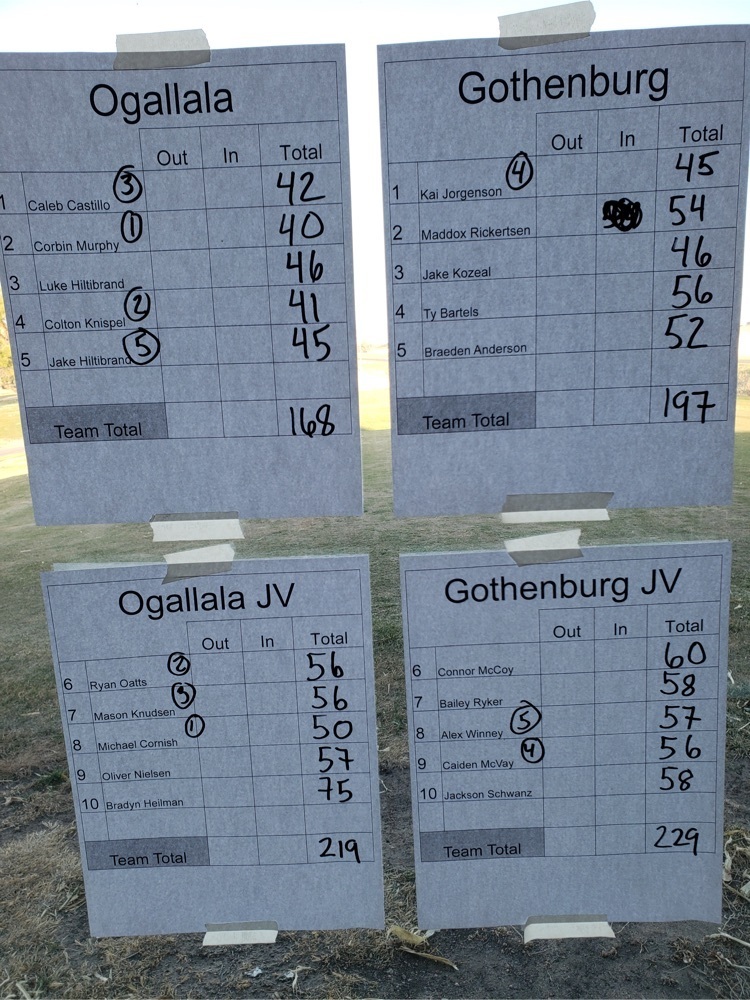 The Ogallala Boys JV Golf team over came some windy conditions in Chase County to bring home 5th place with a team score of 421! Ryan Oatts played a solid round scoring 93 and brought home third place. Oliver Nielsen finished two shots out of the medals scoring 104 and Mason Knudsen close behind with a 106. Everyone battled hard in the wind and gained more valuable experience! Next up: Varsity at Lexington on Tuesday. JV and Varsity have a 9 hole dual vs. Gothenburg at Crandall Creek on Thursday.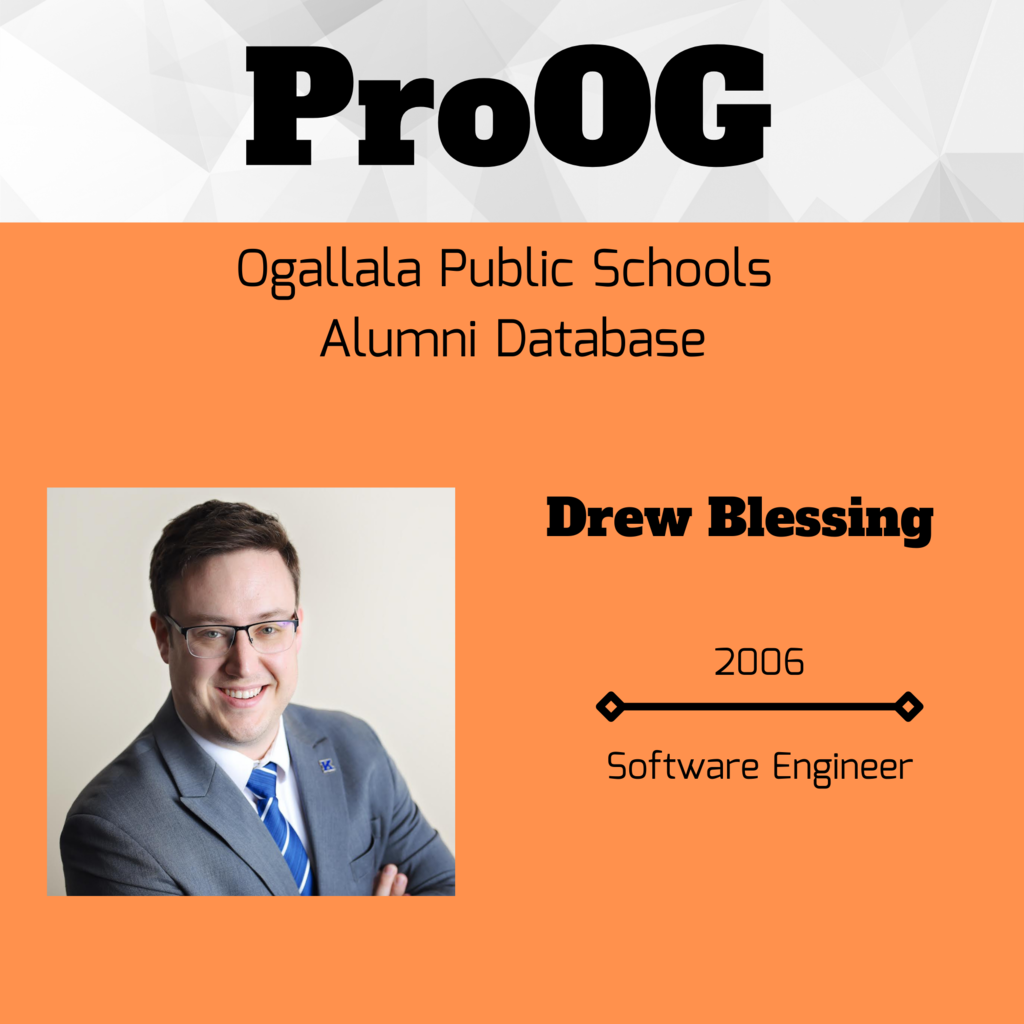 📣Activity update for the week of April 11th. #GoBigO #OGIndians #TheOGWay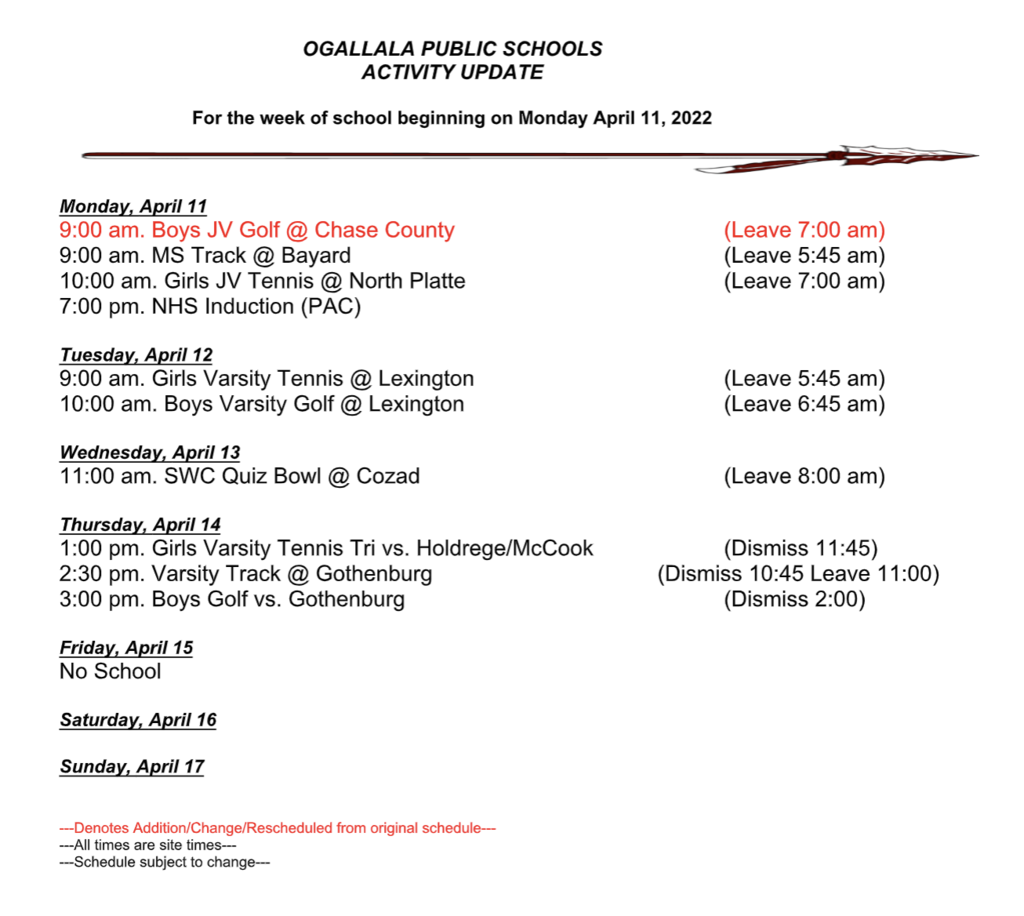 We would like to welcome Ricky Trammel to the OPSD Team for the 2022/23 School Year! Ricky will teach at Prairie View Schools. #GoBigO #OGIndians #TheOGWay


Mrs. Holechek talked to Mrs. Bryant's 7th grade classes about her dad being in the Holocaust. He had a really hard time in the Auschwitz concentration camp where he almost died. Thankfully, he survived and lived a happy life in the United States. This is a very emotional topic to speak about and we are so thankful Mrs. Holechek came in to talk to us. By Lincoln Gillen

❗️The start time for the boy's golf tournament in Sidney tomorrow (Friday, April 8) has been pushed back one hour to begin 10:00 a.m.

A message from Superintendent Gene Russel: Due to the high wind, there will be no out of town busing this afternoon and tomorrow. All in-town busing will still resume. Surface winds are projected to be at 40 mph with gusts up to 56mph at dismissal time today. Tomorrow's surface wind is projected between 30-35mph with gusts up to 43mph during the morning and projected surface wind in the afternoon at 46mph. FAQs: What threshold do you use in making this decision? – Any surface winds that range from 35-45mph for out of town busing. Why not cancel in-town busing? – Our in-town busing does not travel as far and drives at a much slower speed in town.

❗️Today's 7/8 home track meet is postponed. ❗️Today's home tennis dual is postponed. Please stay tuned for the rescheduled dates! #GoBigO #OGIndians #TheOGWay

No plans for lunch or dinner on Tuesday, April 5th? Head to Runza! 10% of their proceeds will be donated to the Ogallala Backpack Program.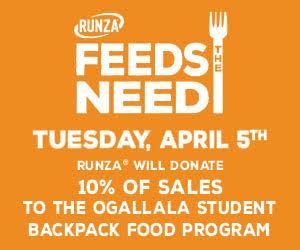 📣Activity update for the week of April 4th. #GoBigO #OGIndians #TheOGWay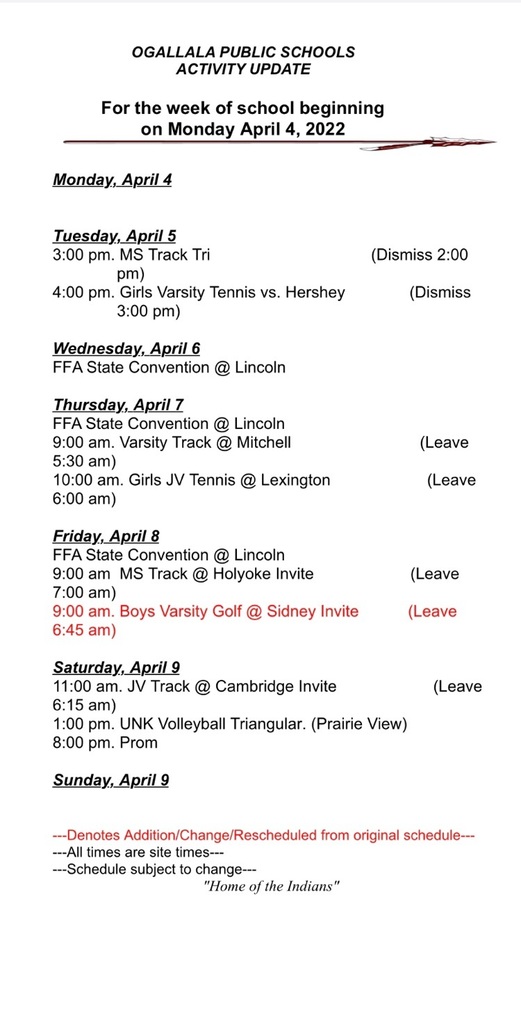 ❗️⛳️The boy's golf meet in Sidney, originally scheduled for Wednesday, has been postponed to Friday, April 8. #GoBigO #OGIndians #TheOGWay
We would like to welcome Amy Burgett to the OPSD Team for the 2022/23 School Year! Amy will teach at Ogallala Middle School. #GoBigO #OGIndians #TheOGWay