2017 Grants Awarded
The May 2017 grants included a $1250 shop planer for the wood working class , partial funding ($1500) for Astronaut Clayton Anderson presentation, landscaping in the amount of $400 on the south side of Prairie View, $1000 for the Ag. education program, $300 for the Family Consumer Science classes at the Middle School to learn the art of canning, and $4000 grant to develop a Blended Learning Lounge at the high School.
The fall 2017 grants Included $200 for Google Virtual Reality Viewers for high school science, $700 to purchase graphic novels for the Prairie View Library, $500 to purchase Circuit Maze puzzles for the before school program at PV Library and $600 to purchase a 2.25" button maker for the MS art program to promote school spirit. Below are the final two grants awarded in the fall of 2017.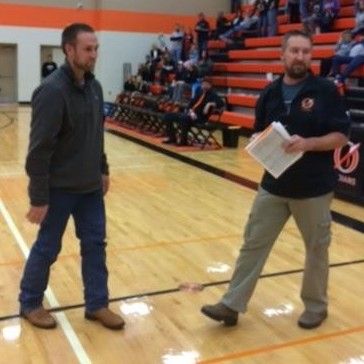 Seth Heinert is announced as a recipient of a School Foundation Grant by OPS Foundation President Jeremy Smith at a home basketball game. Mr. Heinert, the OHS Ag. Instructor, will use the funds to purchase microscopes for the Agriscience classes. The was in the amount of $2450.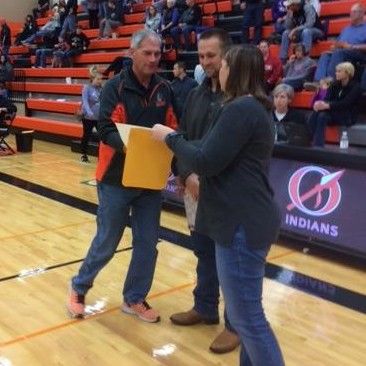 Shane Fruit, High School Leadership Class instructor, received a grant from OPS Foundation member Melinda Neilsen, to use at the "O"lympics the day before school dismisses for Christmas break. The "O"lympics has become a tradition at the high school the last few years to promote student engagement in school activities and develop positive relationships between staff and students.